Ford's customer satisfaction has been in steady decline since 2010. MyFord Touch was also released in 2010. This is not a coincidence. The system was Ford's attempt at an all-in-one, in-dash communication and entertainment system. What owners got instead was an unresponsive, difficult-to-use and needlessly complicated mess.
MyFord Touch1 was Ford's attempt at an all-in-one, in-dash communication and entertainment system. What owners got instead was an unresponsive, difficult-to-use and needlessly complicated mess. The system is often cited as the primary factor in Ford's declining standing in customer satisfaction studies since 20102.
A System So Difficult, it's Actually Dangerous
Early adopters of Ford's new touch screen system complained that it crashed without warning, did not reliably respond to touch commands and failed to sync with mobile phones. Other than that it was great.
In response, Ford released an update in March 20123 that overhauled the user interface and addressed a few performance issues. That hasn't stopped the complaints, however.
Most Common MyFord Touch Complaints
Where do we begin? Let's just take a look at a few of the most common complaints before diving into more detail:
Once the screen goes black, it doesn't come back.
SYNC system freezes and stays frozen, even after the vehicle is turned off.
System randomly jumps through audio sources. Musical roulette!
Doesn't recognize phones, wait … did it just? Nope, still doesn't work.
Back up camera turns off while backing up.
A few more common complaints:
Check, Check – is This Thing On?
With the popularity of touch enabled smart phones, you knew the auto industry wanted to cash in. Unfortunately for us, the consumers, not all touchscreens are created equal. A screen you have to press over and over again – waiting for a response of any sort – is not a good thing, just ask Mike of Longview, TX who wrote to CarComplaints.com about his wife's experience with MyFord Touch:
We have been having ongoing issues with the MyFord Touch Sync system. Backup camera, gas gauge, seat positioner control, radio interface, plus many others. My wife drives the car and treats it like a new born baby. She was stopped in a parking lot and trying to get her phone to make a call by pushing on the touch screen phone icon. Two taps on the screen and nothing. Third tap and the screen spider cracks at her finger.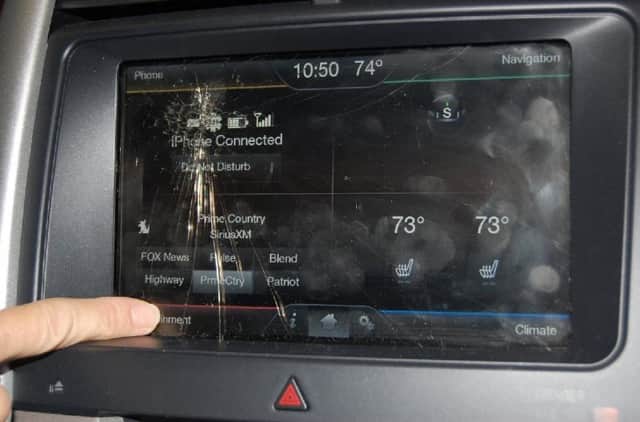 Difficult to Use in the Cold
When the system got rid of all buttons it became extremely difficult to use with gloves on, long fingernails or in very cold temperatures.
A Pain to Update
At first, the only way to get software updates for MyFord Touch involved going to the dealership.
Ford has let us know that existing owners will not be required to visit their dealer for the upgrade, and will be receiving a USB drive allowing for a self-install in the mail. That said, you can still drop by your dealer after getting it to have the install done there.
How MyFord Touch Has Affected Consumer Confidence
Ford's sharp decline in consumer satisfaction since 2010 is not tied to engine, transmission or fuel economy performance – although we could argue that these things don't help – but to consumer frustration with the in-dash headache.
"[Ford] had a really good quality story," said David Sargent from J.D. Power, in a telephone interview with The New York Times . "They were progressing steadily year over year, and everything was going fine."
That was before MyFord Touch. Ford decided they wanted to be one of the first to market with a complete infotainment system and perhaps by rushing it they brought these words on themselves: "complex", "confusing", "non-intuitive", "frustrating" and "aggravating."
Here's how Ford Customer Satisfaction Has Suffered Since MyFord Touch
In 2010 (before the disaster that is MyFord Touch, known around here as BTDTIMYT) the automaker ranked No. 5 and was the highest-ranked nonluxury brand in the study.
After MyFord Touch was launched in 2010, Ford dropped to below average, ranking 23 out of 32 in 2011 and 27 out of 34 last year4.
Ford plunged from 5th in 2010 to 23rd in 2011's Initial Quality Study released by J.D. Power & Associates. Similiarily, Lincoln fell from 8th to 17th5.
It's easy to see why with complaints like these:
"The SYNC system is garbage. I only had the car for a week and the system would freeze up. The only fix was to turn the car off, then back on. After a few weeks, it froze up so bad that I had to have the battery unplugged to reboot the system. After a few updates the car wouldn't recognize my ipod or any other MP3 device. I was told by Ford that the problem was that my ipod was too old, so I bought a new one. Then my ipod was apparently too new." — keychy8, Greenwood, Nova Scotia
"This is where you buy hands free expecting that hands free is going to work. I could have bought an after market stereo that had hands free that was more problem free. "I'm sorry I didn't understand you" or cutting out literally without even acknowledging that you are trying to make a call…..doesn't load phone book….When I contacted the dealership their response was that Ford was working on it and I will receive information in the mail on how to fix……ya….2014 and still waiting…." — Tamara, Maple Ridge, BC
Not fair to sell an system that is full of problems and requires multiple visits to dealer! Awful! — Cheryl, Cranberry Twp, PA
A Series of Lawsuits
On July 2, 2013, Ford was on the receiving end of a class-action lawsuit in a California court. The lawsuit questions the safety of having a car with MyFord Touch: it's difficult to use and has documented problems giving owners access to other systems such as the defroster and rear-view camera.
The [lawsuit] cites internal Ford documents that purportedly show that 500 of every 1,000 vehicles have issues involving MyFord Touch due to software bugs, and failures of the software process and architecture. Owners report that Ford has been unable to fix the problem, even after repeated visits6.
"In theory, MyFord Touch is a brilliant idea." plaintiffs' lawyer Steve Berman of Hagens Berman Sobol Shapiro said in a statement. "In reality, the system is fundamentally flawed, failing to reliably provide functionality, amounting to an inconvenience at best, and a serious safety issue at worst."
In 2014, another class-action lawsuit sued Ford over similar claims. Ford Fusion owner, Sandra Storto, filed the lawsuit accusing Ford of deceptive trade practices, fraud, and warranty violations. Storto says the system isn't worth the money because it's an expensive, flawed product and even trying to update the software can cause a major headache.
"Had [the] plaintiff and the other class members known of the defects in the MyFord Touch system at the time of purchase or lease, they would not have purchased or leased class vehicles, they would have paid substantially less for the vehicles, or they would have purchased or leased Ford manufactured vehicles not equipped with the MyFord Touch system, if available, at a reduced price."
Ford Makes Some Changes
In 2013 Ford announced plans to bring back more traditional knobs and buttons for the next generation of MyFord Touch7, something consumers had been asking for. A Ford spokesman said the automaker has been talking about adding more buttons and knobs along with the touch screen features for some time and that some vehicles, such as the F series models, already include the knobs and buttons.
Then in 2014 Ford announced they were leaving Microsoft (SYNC) for a variant of Blackberry's QNX-based operating system in future updates. This is the same embedded OS used by other manufacturers for a wide-range of systems, not just infotainment.
Don't get too excited yet. Just because these changes have been announced, we're still in wait-and-see mode to see if Ford can actually deliver an improved system.