This Busted Part Allows Ford's Doors to Fly Open While Driving
Key Points
Ford doors aren't latching properly, leading to a "door ajar" warning light and doors flinging open while driving.
The problem is a busted pawl spring inside the latch assembly.
Ford somewhat reluctantly expanded recalls for pawl springs problems over a number of years.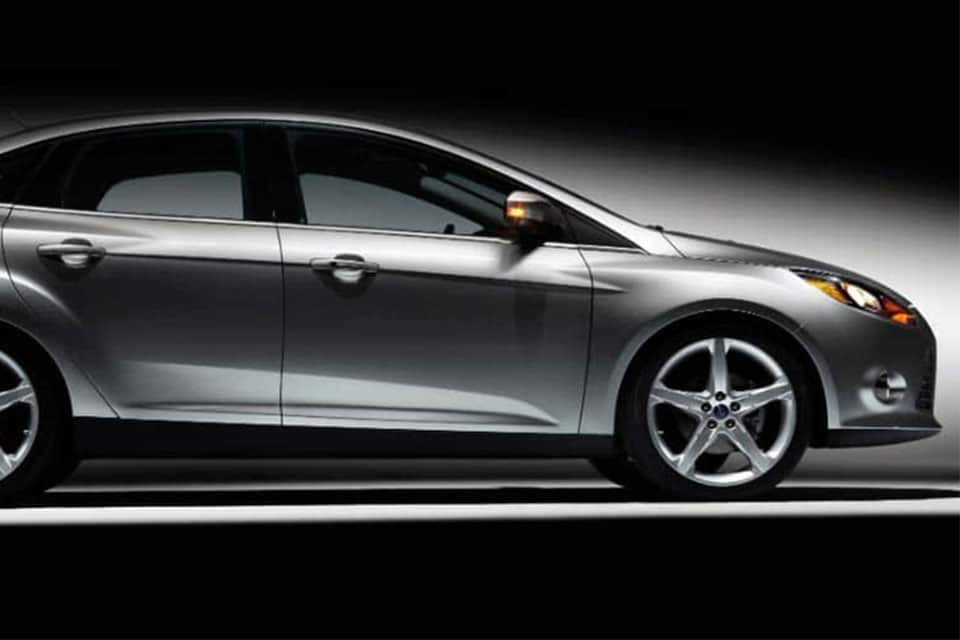 Inside your car's door handle there is a pawl, a mechanical device that latches the door in place and stops it from randomly opening. A pawl spring is also there to help bring the door handle back into place when you release it.
Both are generally simple, historically effective, and the unsung heroes of your car's door handle. That is, unless you drive a Ford.
Lately it seems the motor city automaker can't get a handle on their door handle problems.
The "Pawl Spring" Problem ∞
The first investigation into handle problems started back in September 2014 when the National Highway Traffic Safety Administration (NHTSA) looked into complaints about doors flying open in the 2011-2013 Fiesta. It didn't take long for the investigation to expand to include the 2013 Fusion and Lincoln MKZ as well.
The investigation discovered potential defects in Ford's pawl spring tab, which never properly latched the doors shut.
Pawl Spring Recalls ∞
By the following April, Ford recalled 390,000 vehicles with busted pawl springs. The following month they expanded the recall to include another 156,000.
But it didn't stop there.
Soon other Ford owners started complaining about their doors coming open randomly, kicking back when they went to shut them, or leaving an ever-lasting door ajar light on the dashboard. It wasn't unreasonable to think that most of the Ford cars built around this time all used the same defective pawl springs.
Ford was defiant, however, and didn't issue any further recalls.
But when 400,000 Focus vehicles were put under investigation and attorneys started looking into legal ramifications of Ford's door handle problems, they buckled a bit.
The automaker issued a large but regional recall for 830,000 vehicles in areas it said had "higher ambient temperatures and solar loading."
Fun fact: solar loading apparently means "please don't make us recall this problem nationally." Who knew?
A month later in September 2016, Ford caved and recalled 2.3 million vehicles for busted door latches.
| Make | Model | Years | Build Date | Build Location |
| --- | --- | --- | --- | --- |
| Ford | Fiesta | 2011-2014 | 11/03/2009 to 05/31/2013 | Cuautitlán Assembly Plant |
| Ford | Fusion | 2013-2014 | 02/01/2012 to 05/31/2013 | Hermosillo Assembly Plant |
| | | | 04/12/2013 to 04/26/20133 | Flat Rock Assembly Plan |
| Lincoln | MKZ | 2013-2014 | 02/01/2012 to 05/31/2013 | Hermosillo Assembly Plant |
The Cold Isn't Helping Either ∞
As if Ford's latches needed another foe, owners started complaining about the cold causing the latches to freeze.
When the temperature dropped, the latches wouldn't fully engage the door striker, allowing the door to fly open even when the it appears to be closed.
Additionally, owners complained that a properly latched door could freeze in place and lock them inside their truck.
In April 2015, Ford issued a Technical Service Bulletin (TSB 15-0052) addressing the issue:
2015 F-150 SuperCab and SuperCrew Cab vehicles built on or before 3/25/2015 may exhibit inoperative door latches during or after freezing temperatures.
The TSB recommended fully removing the door panel (ugh) and using compressed air and grease to get things moving again. Ford later issued TSB 16-0155 to include all 2015-2017 F-150 trucks.
The Frozen Latch Lawsuit ∞
Fed up with frozen latches, Brandon Kommer filed a lawsuit in New York saying the "Built Ford Tough" slogan is a joke when you can't even close your doors in the cold.
The lawsuit was dismissed, however, because the judge said the slogan is simple marketing "puffery" and should be assumed to include some exaggeration on part of the automaker.
Frozen Handle Truck Recall ∞
While the lawsuit went up in flames, Ford did eventually decide to recall 1.3 million trucks for frozen door latches in October 2017.
Ford dealers will install water shields over the door latches and repair any kinked door latch actuation cables. Until repairs are made, truck owners should double-check their doors to ensure they are properly closed.
The recalled 2015-2017 Ford F-150 trucks were built in Kansas City and Michigan, and the 2017 Super Duty trucks were manufactured in Kentucky.
Lawsuits Regarding This Problem
Lawsuits about this problem have already been filed in court. Many times these are class-action suits that look to cover a group of owners in a particular area. Click on the lawsuit for more information and to see if you're eligible to receive any potential settlements.
A Ford door latch settlement has been finalized after a truck owner claimed the door latches on the following F-Series trucks may malfunction during freezing temperatures and cause the doors to not open, not close or to suddenly open while driving.

The judge granted all of Ford's motion to dismiss the lawsuit, but said Kommer can proceed with one claim (misrepresentation-by-omission) if he files an amended complaint within thirty days.

A Ford F-150 door latch lawsuit alleges cold weather and freezing temperatures prevent the doors from being closed or locked, especially in the cold state of New York.
Generations Where This Problem Has Been Reported
This problem has popped up in the following Ford generations.

Most years within a generation share the same parts and manufacturing process. You can also expect them to share the same problems. So while it may not be a problem in every year yet, it's worth looking out for.
Further Reading
A timeline of stories related to this problem. We try to boil these stories down to the most important bits so you can quickly see where things stand. Interested in getting these stories in an email? Signup for free email alerts for your vehicle over at CarComplaints.com.
Ford has once again expanded a door handle recall, this time affecting 2.3 million vehicles.

It's likely NHTSA asked Ford to expand the recall because all affected vehicles weren't included in the August recall. That recall was for only certain areas of the country which Ford said had higher ambient temperatures. Vehicles outside those specific areas weren't included in the recall, but Ford said they could be included in a "customer satisfaction program.

So much for the "solar loading" defense.

keep reading

article "Goodbye Regional, Hello Nationwide Recall of Ford Door Handles"

A Ford Focus door latch lawsuit might be forthcoming as attorneys investigate failures of the door latches that allow the doors to open while driving.

The legal investigation includes the 2012-2013 Ford Focus, the same model currently under a safety investigation by the National Highway Traffic Safety Administration (NHTSA).

This isn't surprising.

If the current investigation determines that the Focus uses the same defective pawl springs that were recalled last year, and Ford knew about it, then that's potentially a criminal offense. Or, at the very least, really crappy of them.

keep reading

article "Attorneys Investigate Ford's History of Door Latch Failures"

2015 was a terrible year for Ford door latches. 2016 isn't starting off any better.

Ford Focus door latch problems are under investigation by the government, an investigation that could possibly lead to a recall of 400,000 Ford Focus cars.

The original investigation involved the Fiesta. It was later expanded to include the Fusion. And now the 2012-2013 Focus will get an investigation of their own.

The problem can be traced to busted pawl springs which allow the door to shut without ever latching. When that happens, owners may see a "door ajar" warning light or have their doors open while going around a corner.

My guess is the investigation will be to determine if the Focus used the same pawl springs as the other cars. If so, Focus owners should expect a recall soon.

keep reading

article "Ford Focus is the Next in Line for a Door Latch Investgation"

Following an investigation into door latch failures in Ford Fiesta small cars and later expanded to include the Fusion and Lincoln MKZ, Ford is recalling about 390,000 of those cars to replace the door latches.

Ford says the affected model years are the 2012-2014 Ford Fiesta, 2013-2014 Ford Fusion and 2013-2014 Lincoln MKZ.

The expanded investigation found issues with the pawl spring tabs, which can break and allow the doors to open while driving. Needless to say, that's a safety no-no and led to the recall.

keep reading

article "390,000 Ford and Lincoln Cars Recalled for Doors That Fly Open While Driving"

The feds have opened a "preliminary investigation" into 6th-generation Fiesta door latch concerns.

"The government says it's received 61 complaints about doors that won't latch in the 2011-2013 Ford Fiesta. Some Fiesta owners said the doors opened after being shut and while the cars were moving. One person reported an injury after the door flew back open and struck the individual."…

keep reading

article "Investigation Opened Into Fiesta Doors That Open When They Shouldn't"
OK, Now What?
Maybe you've experienced this problem. Maybe you're concerned you will soon. Whatever the reason, here's a handful of things you can do to make sure it gets the attention it deserves.
File Your Complaint

CarComplaints.com is a free site dedicated to uncovering problem trends and informing owners about potential issues with their cars. Major class action law firms use this data when researching cases.

Add a Complaint

Notify CAS

The Center for Auto Safety (CAS) is a pro-consumer organization that researches auto safety issues & often compels the US government to do the right thing through lobbying & lawsuits.

Notify The CAS

Report a Safety Concern

The National Highway Traffic Safety Administration (NHTSA) is the US agency with the authority to conduct vehicle defect investigations & force recalls. Their focus is on safety-related issues.

Report to NHTSA