Which Ford Vehicles Have Dangerous Takata Airbags?
Posted on

Tagged
Key Points
The Takata airbag recall is the largest automotive recall in U.S. history with more than 100 million vehicles affected worldwide.
The inflators become unstable over time and can rupture / explode during an airbag deployment, shooting metal fragments into the cabin.
The problem is responsible for at least 27 deaths worldwide.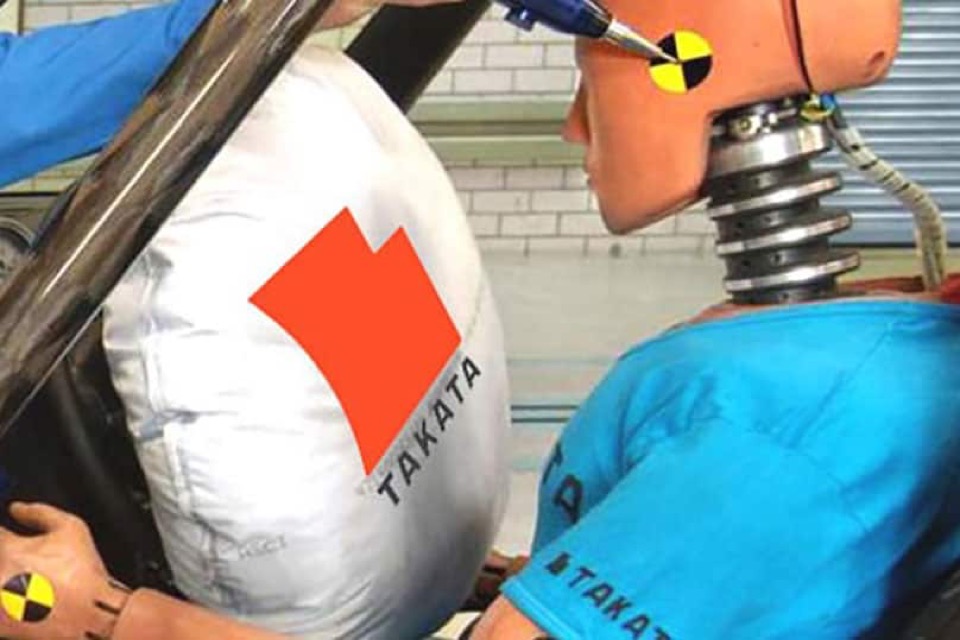 Takata's inflators use a chemical called ammonium nitrate to inflate the airbag during a crash. The ammonium nitrate can become unstable when exposed to temperature fluctuations or high humidity, causing the inflators to explode with an unexpected amount of force. How much force? Enough to rupture the metal canister during a deployment and spray sharp fragments out into the cabin during a crash.
According to the National Highway Traffic Safety Administration (NHTSA), at least 15 drivers have been killed and 250 people injured by an exploding Takata inflator.
Which Ford Vehicles Have Been Recalled? ∞
Given the scope of these recalls, NHTSA decided to spread out the recalls to get replacements to owners in the highest-risk regions or zones first. The last wave of inflator related recalls is expected to begin in early 2020.
A zone is a group of states and territories where a vehicle was originally sold or registered at some point in time.
Zone A: Alabama, California, Florida, Georgia, Hawaii, Louisiana, Mississippi, South Carolina, Texas, Puerto Rico, American Samoa, Guam, the Northern Mariana Islands (Saipan) and the U.S. Virgin Islands.
Zone B: Arizona, Arkansas, Delaware, District of Columbia, Illinois, Indiana, Kansas, Kentucky, Maryland, Missouri, Nebraska, Nevada, New Jersey, New Mexico, North Carolina, Ohio, Oklahoma, Pennsylvania, Tennessee, Virginia and West Virginia.
Zone C: Alaska, Colorado, Connecticut, Idaho, Iowa, Maine, Massachusetts, Michigan, Minnesota, Montana, New Hampshire, New York, North Dakota, Oregon, Rhode Island, South Dakota, Utah, Vermont, Washington, Wisconsin and Wyoming.
| Make | Model | Years | Limited To |
| --- | --- | --- | --- |
| Ford | Edge | 2007-2010 | |
| | | 2010 | Zone B |
| | | 2009 | Zone C |
| | Fusion | 2006-2012 | |
| | | 2010 | Zone B |
| | | 2009 | Zone C |
| | GT | 2005-2006 | |
| | Mustang | 2013 | Zone A |
| | | 2010 | Zone B |
| | | 2009 | Zone C |
| | | 2005-2014 | |
| | Ranger | 2004-2012 | |
| | | 2010 | Zone B |
| | | 2009 | Zone C |
Ford Motor Company has also announced Takata recalls for Lincoln and Mercury vehicles, which I'm guessing doesn't surprise you.
Ranger Stop-Driving Orders ∞
Following the death of two Ford Ranger owners, Ford made a drastic plea to owners of the 2006 model year. First they warned 3,000 owners to immediately stop driving and have their trucks towed in for repairs..
A month later another 33,400 owners were given the same warning.
The automaker says dealers will tow the Rangers back to the dealerships and if needed, provide loaner vehicles to customers. Dealers say the repairs will be the final fix to resolve the known safety risk.
Take Action ∞
Takata inflators have been linked to 23 deaths.
Owners of these vehicles are urged to call the National Highway Traffic Safety Administration (NHTSA) safety hotline at 1-888-327-4236 or lookup your VIN (vehicle identification number).
"Consumers that are uncertain whether their vehicle is impacted by the Takata recalls, or any other recall, can contact their manufacturer's website to search, by their vehicle identification number (VIN) to confirm whether their individual vehicle has an open recall that needs to be addressed."
Generations Where This Problem Has Been Reported
This problem has popped up in the following Ford generations.

Most years within a generation share the same parts and manufacturing process. You can also expect them to share the same problems. So while it may not be a problem in every year yet, it's worth looking out for.
Further Reading
A timeline of stories related to this problem. We try to boil these stories down to the most important bits so you can quickly see where things stand. Interested in getting these stories in an email? Signup for free email alerts for your vehicle over at CarComplaints.com.
Ford may have used obsolete Takata replacement parts during a previous recall, extending what already feels like a never-ending airbag saga.

Some Ford dealerships kept defective parts on their shelves long after they should have been tossed, and those wound up being used in vehicles as part of a collision of theft repair. Now Ford needs to re-recall 154,000 vehicles to inspect part numbers and replace the inflators if neccessary.…

keep reading

article "Ford Recalls Trucks That Received Obsolete Replacement Takata Parts"

Ford has reluctantly settled a class-action lawsuit for using defective Takata airbags.

Although agreeing to settle the case without the court deciding right or wrong, Ford continues to deny all liability and wrongdoing concerning the vehicles. The automaker says it decided to settle to get the matter over with and avoid the cost of further litigation.

This isn't the first time Ford has acted reluctant when it comes to Takata problems. Owners can expect to see the following benefits regardless of Ford doing it out of the kindness of their heart or the protection of their checkbooks.…

keep reading

article "Takeways from Ford's Takata Class-Action Settlement"

Ford is warning even more 2006 Ranger owners to stop driving their trucks immediately because the airbags can kill them.

Last month Ford sent a message to 3,000 owners saying their trucks need to be parked because of an elevated risk of safety. They even insist on towing the vehicles to the dealership for repair because driving them is just too dangerous. 😳 This latest warning affects 33,400 additional owners.

The affected trucks were built between 08/10/2005 to 12/15/2005, and 08/05/2005 to 11/04/2005.

keep reading

article "Ford Warns More 2006 Ranger Owners to Stop Driving Their Trucks Immediately"

Like it or not, Ford is going to need to recall nearly 3 million vehicles with Takata airbags.

Back in July, Ford filed a petition to delay the recalls so they could investigate the matter further. Time's up.

"NHTSA says the request for additional testing by the automakers isn't reasonable based on the data that has been collected."

This isn't a no harm, no foul situation. Delaying the recall puts people's lives at risk and it's not a good look for Ford.

keep reading

article "Ford's Petition to Stop Takata Recall Has Been Denied"

Takata says there are 2.7 million Ford and Nissan vehicles that should be recalled because they contain dangerous airbags.

Given their propensity to explode in people's faces, it seems only logical to follow that advice. Nissan's on board but Ford isn't sold on the idea because the airbags contain a drying agent that's supposed to protect the inflators.

"Unlike the tens of millions of airbag inflators already recalled in millions of vehicles, the 2.7 million inflators have a drying agent (desiccant) called calcium sulfate used to protect the explosive chemical, ammonium nitrate, from moisture."…

keep reading

article "Ford Isn't Sold On This Whole "Takata Recall" Thing"

Ford is recalling 1.9 million vehicles to replace dangerous Takata airbag inflators which have been known to explode.

The inflators that need to be replaced are in the passenger-side frontal airbags. See the full list of recalled vehicles.

Takata's inflators don't contain a drying agent called desiccate. Over time, the ammonium nitrate inside the inflator can become unstable when exposed to heat and humidity. If they do explode, metal shrapnel can shoot throughout the cabin and has injured, or in some cases killed the people inside. Yikes!…

keep reading

article "Ford Recalls 1.9 Million Vehicles for Takata Airbags"

Earlier this year Ford issued a regional recall for vehicles with Takata airbag inflators in areas of high humidity.

The thought was humidity is to blame for the inflators failing under pressure, but the National Highway Traffic Safety Administration (NHTSA) believes the product is doomed to fail regardless of location.

Ford is taking NHTSA's advice and issuing a new recall for over 500,000 cars nationwide. The recall includes the 2005-2008 Mustangs and 2005-2006 GT.

keep reading

article "Regional Takata Recall Expanded Nationwide for Mustang and GT"

Ford is issuing a recall for 59,000 Takata airbag inflators.

The automaker has named the affected vehicles as the 2005-2007 Mustang, 2005-2006 GT, and 2004 Ranger vehicles.

What – Inflators are controlled exposions that deploy the airbags in the event of a crash. Takata's inflators are failing under pressure and exploding with too much force, so when the airbag deploys, sharp metal shrapnel from the inflator also shoots out into the cabin. The inflators were first recalled in 3 million vehicles, none of them Fords, last year.

Where – The inflators are failing in places of higher humidity which is why this is a regional recall limited to vehicles originally sold or currently registered in Florida, Puerto Rico, Hawaii and the U.S. Virgin Islands.

When – Neither Ford or the National Highway Traffic Safety Administration (NHTSA) has released a date for the recall. You can call Ford at 800-392-3673 and reference recall number 14B04.

keep reading

article "Ford Recalls Exploding Takata Airbag Inflators"
OK, Now What?
Maybe you've experienced this problem. Maybe you're concerned you will soon. Whatever the reason, here's a handful of things you can do to make sure it gets the attention it deserves.
File Your Complaint

CarComplaints.com is a free site dedicated to uncovering problem trends and informing owners about potential issues with their cars. Major class action law firms use this data when researching cases.

Add a Complaint

Notify CAS

The Center for Auto Safety (CAS) is a pro-consumer organization that researches auto safety issues & often compels the US government to do the right thing through lobbying & lawsuits.

Notify The CAS

Report a Safety Concern

The National Highway Traffic Safety Administration (NHTSA) is the US agency with the authority to conduct vehicle defect investigations & force recalls. Their focus is on safety-related issues.

Report to NHTSA