Why Does the EcoBoost Engine Keep Catching on Fire?
Key Points
A design defect allows coolant to leak into the cylinders of the 1.5L, 16L, and 2.0L EcoBoost engine.
Low coolant levels can lead to the engine overheating, misfiring, or catching on fire.
Early EcoBoost engines were also known to catch on fire, leading to a 2012 recall and "stop driving" order from Ford.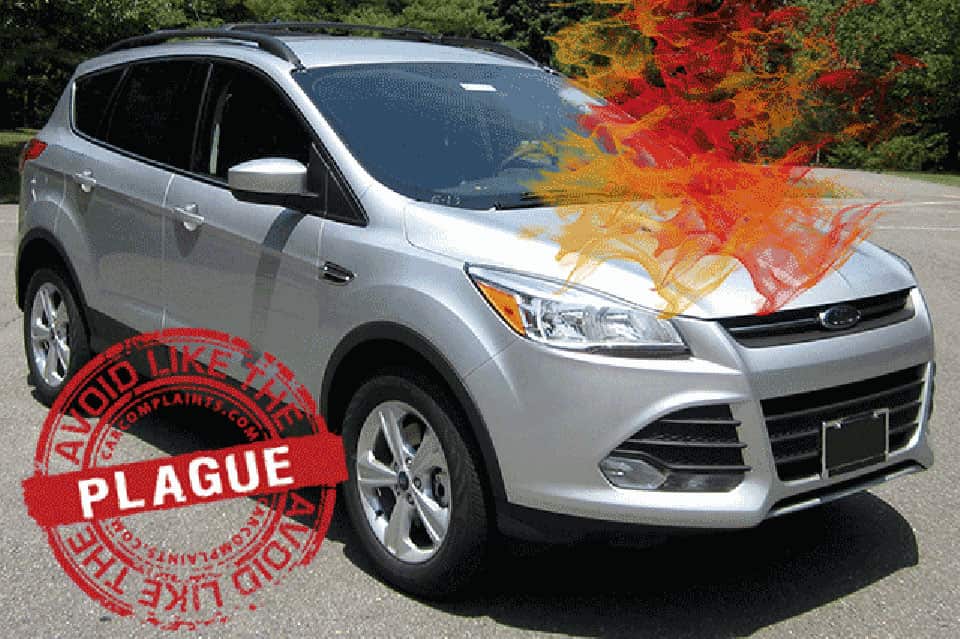 A design defect in the 4-cylinder variants of the EcoBoost engine allows coolant to leak into cylinders, eventually causing corrosion, misfires, engine failure, and fires. And this is just the latest example of EcoBoost engines going up in smoke.
The most recent trouble can be found in the 1.5L, 1.6L, and 2.0L engines of the Ford Escape, Edge, and Fusion.
Why is Coolant Leaking in EcoBoost Engines? ∞
The engines were designed with grooves in the cylinder head. It's believed that as coolant flows through the engine it starts to leak into those grooves.
Over time the coolant pools up and starts to degrade the gasket seals meant to keep it out of the cylinders.
As the leaks get worse and coolant levels drop, the engine can overheat leading to damaged pistons or cracked cylinder heads that lead to a more rapid coolant loss.
What happens when coolant leaks into the cylinders? ∞
At first, owners might notice their engines misfiring or blue smoke coming out of the tailpipe. Owners who are aware of the problem know they need to keep an eye on coolant levels and top it off when levels get low.
One of the more dangerous problems is coolant that leaks into the combustion chamber is a legitimate threat to start an engine fire.
What is Ford Doing to Fix the EcoBoost Problems? ∞
Not as much you'd think.
The automaker revealed they knew of 26 reports of under hood fires with a cracked cylinder head in EcoBoost engine recall documents submitted to the government in March of 2017.
But for a solution to that recall, Ford simply installed a coolant level sensor to issue alerts to owners when levels are low. Something most call a band-aid" fix.
A push in the right direction? ∞
At least one class-action wants to see Ford do a bit more for owners that have to wrestle with the fact that their cars could be next to go up in flames.
The plaintiffs suggest that Ford has knowingly sold vehicles with EcoBoost engines that'll experience cracked heads, busted seals, and eventual catastrophic failure in the 2013-2019 Ford Escape and 2015-2019 Ford Edge, as well as the 2017-2019 Lincoln MKC and 2017-2019 Lincoln MKZ vehicles.
EcoBoost Owners Have Been Burned Before ∞
Back in 2012, Ford told owners with 1.6L EcoBoost engines to stop driving their cars immediately because the engine compartment fuel line could split and leak fuel, which could cause the SUV to go up in smoke.
The problem led to a recall of 11,500 vehicles in the USA and Canada.
And just for a little extra salt in the wound, the following year they admitted the recall fix probably didn't work for 9,500 owners.
Lawsuits Regarding This Problem
Lawsuits about this problem have already been filed in court. Many times these are class-action suits that look to cover a group of owners in a particular area. Click on the lawsuit for more information and to see if you're eligible to receive any potential settlements.
This lawsuit alleges defects in the EcoBoost engines causes coolant to leak into the cylinders in the 1.5L, 1.6L and 2.0L engines. This causes the engines to overheat, fail and catch fire.

According to the Ford EcoBoost class action lawsuit, the engines have inadequate seals on the cylinder heads and grooves where the cylinder heads attach to the engine blocks. Coolant allegedly enters through the grooves where it pools and degrades the gasket seals and causes coolant to leak into the cylinders.
Generations Where This Problem Has Been Reported
This problem has popped up in the following Ford generations.

Most years within a generation share the same parts and manufacturing process. You can also expect them to share the same problems. So while it may not be a problem in every year yet, it's worth looking out for.
2nd Generation Edge

Years

2015–2020

Reliability

68th out of 94

PainRank™

16.41

Complaints

233

Learn more about the 2nd Generation Edge

3rd Generation Escape

Years

2013–2019

Reliability

88th out of 94

PainRank™

45.69

Complaints

968

Learn more about the 3rd Generation Escape

2nd Generation Fusion

Years

2013–2020

Reliability

74th out of 94

PainRank™

24.4

Complaints

644

Learn more about the 2nd Generation Fusion
Further Reading
A timeline of stories related to this problem. We try to boil these stories down to the most important bits so you can quickly see where things stand. Interested in getting these stories in an email? Signup for free email alerts for your vehicle over at CarComplaints.com.
First, Ford said to stop driving your Escape until it could get repaired. Now they're saying that "repair" probably didn't work.

Ford is recalling 9,500 Escapes because a previous recall might not have fixed the problem. The affected vehicles were manufactured from October 5, 2011, through July 11, 2012. Ford says the engine compartment fuel line may have been installed incorrectly when repaired under the prior recall. The placement of the fuel line could cause irritation to the line and cause it to leak.

All affected vehicles, repaired or otherwise, need to be inspected.

keep reading

article "Chestnuts Still Roasting on an EcoBoost Fire"

It's never a good sign when an automaker tells you to stop driving your vehicle immediately.

Ford said the engine compartment fuel line could split and leak fuel, which could cause the SUV to go up in smoke. The affected vehicles are equipped with the 1.6L EcoBoost engine and total about 11,500 vehicles in the U.S. and Canada.

Ford is so concerned about these fires they don't even want you driving to the dealership for repairs. Instead, they'll arrange to have your Escape towed. Seriously.

keep reading

article "Ford to 2013 Escape Owners: Stop Driving, Immediately."
OK, Now What?
Maybe you've experienced this problem. Maybe you're concerned you will soon. Whatever the reason, here's a handful of things you can do to make sure it gets the attention it deserves.
File Your Complaint

CarComplaints.com is a free site dedicated to uncovering problem trends and informing owners about potential issues with their cars. Major class action law firms use this data when researching cases.

Add a Complaint

Notify CAS

The Center for Auto Safety (CAS) is a pro-consumer organization that researches auto safety issues & often compels the US government to do the right thing through lobbying & lawsuits.

Notify The CAS

Report a Safety Concern

The National Highway Traffic Safety Administration (NHTSA) is the US agency with the authority to conduct vehicle defect investigations & force recalls. Their focus is on safety-related issues.

Report to NHTSA