Rodents Can't Get Enough of Ford's Soy-Coated Wiring and That's a Big Problem
Posted on

Tagged
Key Points
Ford uses a soy-based electrical wire coating that is cheaper and more environmentally friendly.
It also tends to attract rodents that love the material for nest building.
Prevention options are usually weird and range from coyote pee to capsaicin-laced tape.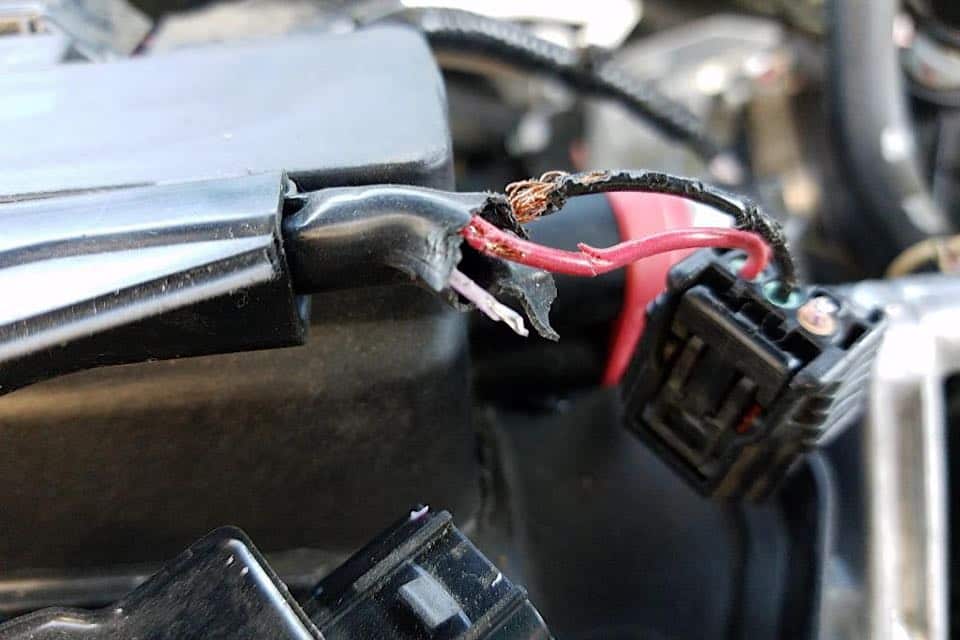 Years ago many automakers switched from plastic to a soy-based wiring coating. The benefits range from the obvious reducing plastic in the landfill and oceans, to the less obvious cost benefits.
But the downsides are they're a preferred chew toy for many types of rodents, provide excellent nesting material, are found in near endless supply in a warm, hidden spot.
Soy Wiring Complaints From Ford Owners ∞
Ford is far from alone on this problem. ∞
Toyota was sued because owners think this sort of damage should be covered under warranty. Toyota continually denies that modern insulation is any more appealing to rodents saying we are currently not aware of any scientific evidence that shows rodents are attracted to automotive wiring because of alleged soy-based content.
Honda owners were also tired of rodents using their engines as a playground full of chew toys. The lead plaintiff says his 2014 Honda CrossTour wiring was shredded by a rabbit, a rabbit found in the engine compartment by a Honda dealer. Delaney says the dealer provided a photo of the rabbit enjoying the soy wiring for lunch, but the dealer refused to cover the repairs under warranty, which left Delaney paying $765 for the repairs..
In the case of Michelle Martinez v. Hyundai Motor America, Inc., the plaintiffs say that when an owner takes their vehicles in for repairs due to chewed wires, the gnawed materials are replaced with more soy-based materials. A vicious circle ensues, and owners can spend thousands of dollars just keeping their cars running.
Subaru was sued in Hawaii because, come to find out, replacing a fuel line or running new electrical ain't cheap. Especially when you have to do it again and again.
Tips for Preventing Rodent Damage ∞
Regularly open the hood and inspect your engine for signs of rodent activity (so, poop)
When you move the car, look for any shredded pieces of wire coating or other material that looks like a nest that might have fallen out.
Clean all food out of your car, including food sealed in bags. This is especially important for dog food and treats.
Some have had success with putting mothballs, dryer sheets, or liquid peppermint in their engine compartments.
Wrap your electrical wiring in something rodents can't stand.
Generations Where This Problem Has Been Reported
This problem has popped up in the following Ford generations.

Most years within a generation share the same parts and manufacturing process. You can also expect them to share the same problems. So while it may not be a problem in every year yet, it's worth looking out for.
What Owners Say About This Problem
This car is only 3 months old. Dealer removed the engine cover in front of me and I saw the beginnings of a white insulation nest and droppings. The coolant line running across the engine was chewed and leaking. We saw other lines and wires with similar damage across the entire engine compartment.
I began to wonder why the old truck had no troubles being parked in the same place for 15 years and right away the new truck has this chronic issue. Doing a little Internet research I discovered that the wiring insulation as well as a few other component parts on this and the 2016 models is made from a soy-based material. Turns out that to a rat or other rodent that insulation looks like a tasty little snack!
OK, Now What?
Maybe you've experienced this problem. Maybe you're concerned you will soon. Whatever the reason, here's a handful of things you can do to make sure it gets the attention it deserves.
File Your Complaint

CarComplaints.com is a free site dedicated to uncovering problem trends and informing owners about potential issues with their cars. Major class action law firms use this data when researching cases.

Add a Complaint

Notify CAS

The Center for Auto Safety (CAS) is a pro-consumer organization that researches auto safety issues & often compels the US government to do the right thing through lobbying & lawsuits.

Notify The CAS

Report a Safety Concern

The National Highway Traffic Safety Administration (NHTSA) is the US agency with the authority to conduct vehicle defect investigations & force recalls. Their focus is on safety-related issues.

Report to NHTSA