Why Do Ford Hoods Corrode So Easily?
Posted on

Tagged
Key Points
2000-2007 Ford aluminum hoods are susceptible to rust and corrision.
A class-action lawsuit says Ford failed to insulate the hoods despite knowing it would subject the hoods to galvanic coupling and corrosion.
A TSB discusses the possibility of iron contamination of the aluminum panels causing the problem.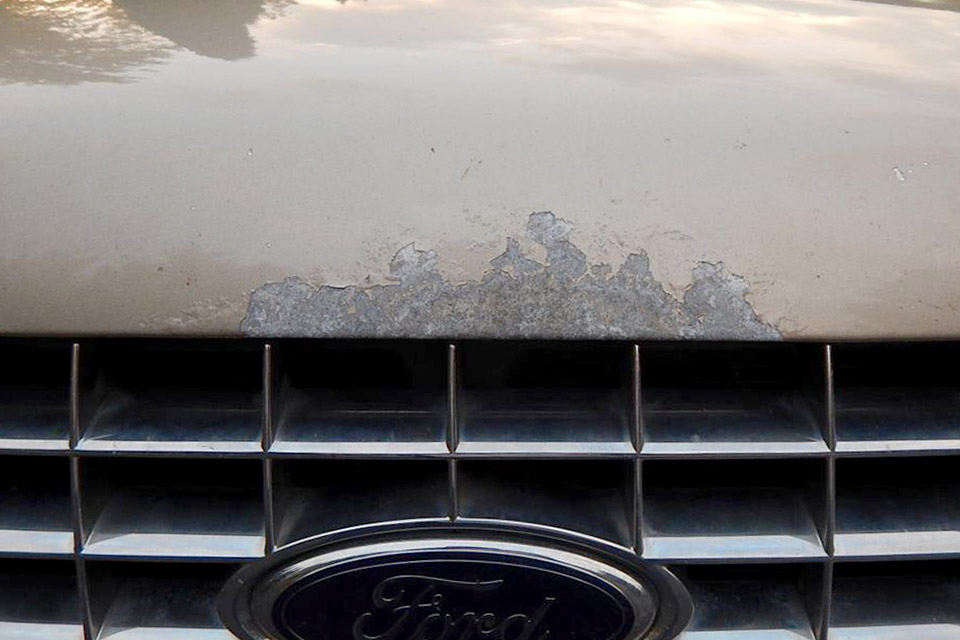 2000-2007 Ford, Lincoln and Mercury vehicle owners are learning that Ford knew about corrosion issues during the assembly process, but failed to correct the problem and sold the vehicles anyway. And it's rightfully ticking them off.
Ford Owner Complaints about Aluminum Corrosion on CarComplaints.com

| Model | Complaints |
| --- | --- |
| 2002-2009 Ford Mustang | 28 |
| 2002-2006 Ford Explorer | 172 |
| 2001-2007 Ford F-150 | 28 |
| 2001-2005 Ford Explorer Sport Trac | 17 |
| 2004-2005 Mercury Mountaineer | 6 |
| 2001-2007 Ford Expedition | 11 |
| Other Ford Models | 15 |
| | 277 |
Class Action Lawsuit for Ford's Aluminum Hood Rust ∞
A class action lawsuit filed in the United States District Court in New Jersey claims that Ford used aluminum hoods but failed to properly insulate them from "old iron-based connecting and supporting parts," despite knowing that "would give rise to galvanic coupling" and corrosion.[1]
It goes on to say that the automaker went on to conceal this inevitable problem from buyers, drastically reducing the long-term value of their vehicles.
Ford not only denies this claim, but says the suit is so lacking in merit that it should be dismissed. Last fall, Judge Kevin McNulty granted only part of Ford's request, dismissing one of three counts, allowing the case to continue.[1:1]
How Much Did Ford Know About the Problem? ∞
Ford can deny concealing the problem until the cows come home, but actions speak louder than words. In 2004 the manufacturer sent dealers a technical service bulletin (TSB) about bubbling and blistering under the paint on aluminum body panels due to "iron contamination of the aluminum panel".
The TSB goes on to say that "testing has revealed that the aluminum corrosion was caused by iron particles working their way into the aluminum body part, prior to it being painted."
Hey Ford, what was that about not knowing this was an issue?
---
Lawsuits Regarding This Problem
Lawsuits about this problem have already been filed in court. Many times these are class-action suits that look to cover a group of owners in a particular area. Click on the lawsuit for more information and to see if you're eligible to receive any potential settlements.
The judge ruled any claims against Ford for damages to Mustangs before the 2005 model year are false because Ford could not have had any knowledge that galvanic corrosion of aluminum hoods would occur in the 2000-04 models. Those cars did not have aluminum hoods but had hoods made of sheet molded compound.

A federal judge says that a class action suit claiming corrosion on aluminum body panels has reduced the value of millions of cars and trucks made by Ford should proceed with depositions being taken this year.

Court documents don't go into much detail, but the plaintiffs say their claims in this matter pending against Ford Motor Co. (Defendant) have been resolved to the satisfaction of Plaintiffs and Defendant.

A Ford Explorer hood rust recall allegedly should have been ordered long ago, or so says a plaintiff who filed a proposed class action lawsuit about aluminum hoods.
Generations Where This Problem Has Been Reported
This problem has popped up in the following Ford generations.

Most years within a generation share the same parts and manufacturing process. You can also expect them to share the same problems. So while it may not be a problem in every year yet, it's worth looking out for.
OK, Now What?
Maybe you've experienced this problem. Maybe you're concerned you will soon. Whatever the reason, here's a handful of things you can do to make sure it gets the attention it deserves.
File Your Complaint

CarComplaints.com is a free site dedicated to uncovering problem trends and informing owners about potential issues with their cars. Major class action law firms use this data when researching cases.

Add a Complaint

Notify CAS

The Center for Auto Safety (CAS) is a pro-consumer organization that researches auto safety issues & often compels the US government to do the right thing through lobbying & lawsuits.

Notify The CAS

Report a Safety Concern

The National Highway Traffic Safety Administration (NHTSA) is the US agency with the authority to conduct vehicle defect investigations & force recalls. Their focus is on safety-related issues.

Report to NHTSA