Why Do Spark Plugs Get Stuck in Ford's Triton Engine?
Posted on

Tagged
Key Points
Spark plugs keep getting stuck in Ford's Triton V8 engines.
Owners' blame the problem on Ford's new plug design featuring a 2-piece shell.
A TSB provides special procedures for spark plug removal on these engines.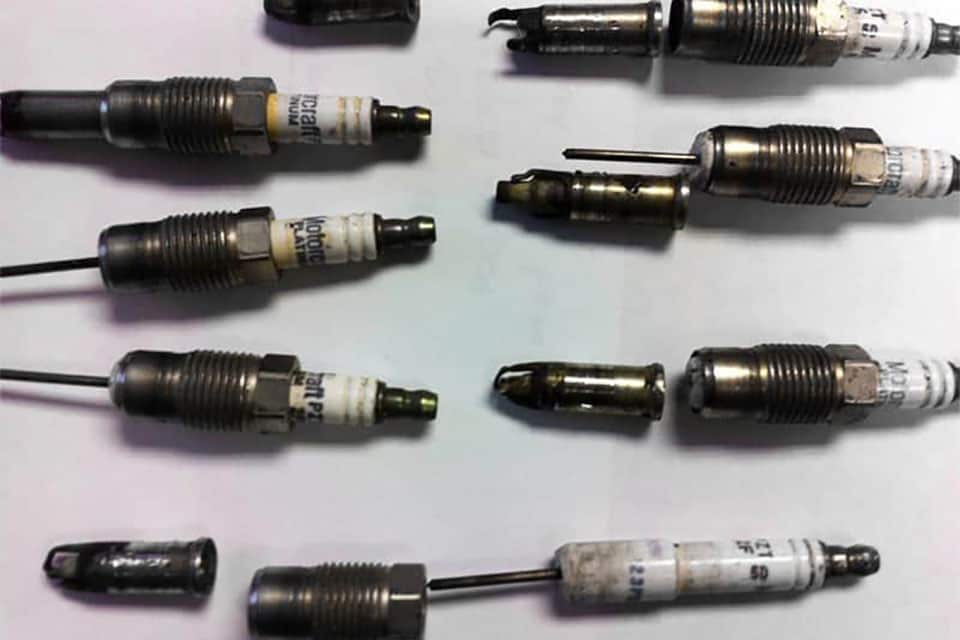 Trying to remove spark plugs from Ford's 3-valve 4.6L, 5.4L and 6.8L 2004-2008 engines can cause part of the plug to break off and get stuck in the cylinder head.
The spark plugs were designed to need their first service at 100,000 miles which sounds great on paper, until you realize that:
It's far outside of the vehicle's basic warranty
The long service interval is actually one of the reasons the plugs break apart
Ford's New Plug Design ∞
You see Ford came up with a unique plug design that has a 2-piece shell. At the end of the plug an electrode extends a bit beyond the threads and creates a gap between the plug and the cylinder head which gets filled with carbon deposits. The problem isn't bad if treated at 30,000 miles, but over 100,000 miles -- Ford's recommended interval -- it cakes the electrode in a concrete-like grip. Because the electrode is welded to the bottom part of the shell, it creates a natural breaking point.
Of course that's if it doesn't spit them out first.
An Issue Even for Mechanics ∞
Even qualified mechanics with the proper tools can have issues removing spark plugs, making their jobs of estimates -- both how long and how much -- very difficult.
Get a call from the dealer stating that the #3 plug broke off in the head and none of their extraction tools will remove it. They say the head will have to be removed and possibly replaced and could cost up to $4500 dollars!!!! I picked my jaw up off the floor and went and complained to the service manager. He said he can get ford to help with the repair (which they initially rejected) and after 8 days and a final bill of $1193.
-Sean M. of Boerne, TX
Ford acknowledges some of these issues in TSB 08-7-6[1].
Vehicle's Most Likely to Have a Spark Plug Stuck ∞
The TSB covers the following models and model years, bolded years have the most complaints on CarComplaints.com:
What to Do ∞
The TSB provides a special procedure for spark plug removal on these engines. For situations where the spark plug has broken in the head, Ford distributes multiple special tools for removing the seized portion of the plug. This repair is covered for vehicles under warranty -- which is doubtful.
Some tips from the TSB[1:1]:
Ford recommends you do not try to remove the plugs from a warm or hot engine
Do not use air or power tools to remove plugs, use hand tools only
Use specialized tools optimized to remove these specific plugs from the engine
How Long Does it Take? ∞
Both owners and mechanics have a hard time estimating how long swapping out the plugs will take. That's because maybe none of the plugs will get stuck, maybe a couple, or maybe all eight. With each broken plug the repair bill -- and frustration level -- goes up. If things go really wrong it could mean replacing the entire cylinder head.
Motorcraft has since designed a one-piece spark plug that's less likely to fall apart.
---
TSB 08-7-6 is an 11-page procedural document showing just how complex it is to safely remove these spark plugs. ↩︎ ↩︎
Generations Where This Problem Has Been Reported
This problem has popped up in the following Ford generations.

Most years within a generation share the same parts and manufacturing process. You can also expect them to share the same problems. So while it may not be a problem in every year yet, it's worth looking out for.
OK, Now What?
Maybe you've experienced this problem. Maybe you're concerned you will soon. Whatever the reason, here's a handful of things you can do to make sure it gets the attention it deserves.
File Your Complaint

CarComplaints.com is a free site dedicated to uncovering problem trends and informing owners about potential issues with their cars. Major class action law firms use this data when researching cases.

Add a Complaint

Notify CAS

The Center for Auto Safety (CAS) is a pro-consumer organization that researches auto safety issues & often compels the US government to do the right thing through lobbying & lawsuits.

Notify The CAS

Report a Safety Concern

The National Highway Traffic Safety Administration (NHTSA) is the US agency with the authority to conduct vehicle defect investigations & force recalls. Their focus is on safety-related issues.

Report to NHTSA