Defective ETBs Are Sending Ford Vehicles into Limp Home Mode
Posted on

Tagged
Key Points
Electronic throttle body (ETB) problems are forcing the Ford Escape into "Limp Home" mode.
There are so many ETB complaints and warranty claims that replacement parts are often on national backorder.
Ford issued a "customer satisfaction campaign" in 2014 for a small number of affected owners, prompting lawsuits.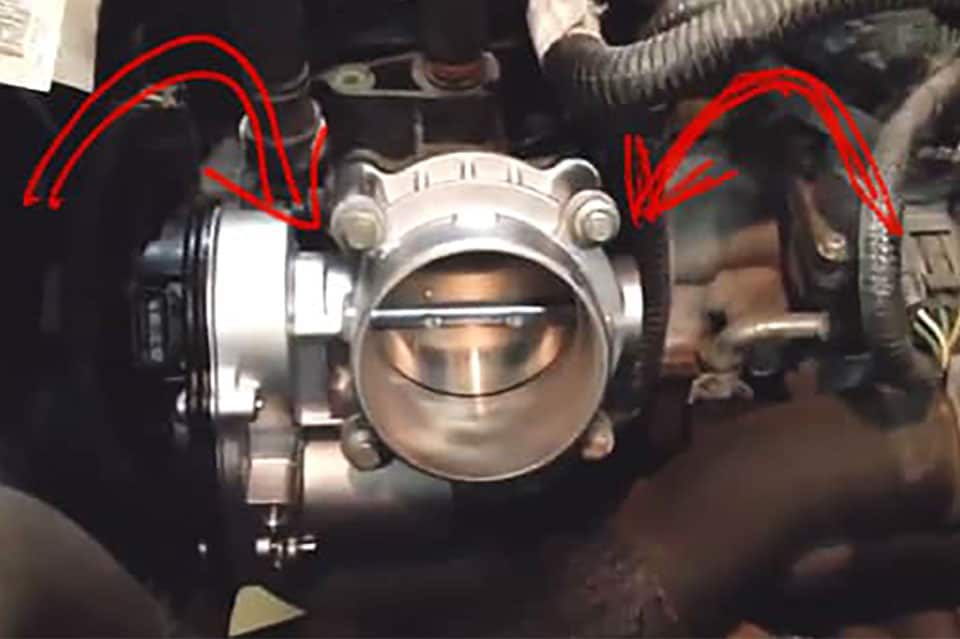 Back in the day, there was a cable connecting the accelerator pedal to the throttle. If that cable snapped, well, you were up a certain creek without a paddle. But at least you knew what it was.
Nowadays every system in your vehicle is controlled by some sort of computer, including the ETB (sometimes called an electronic throttle control (ETC)). The ETB uses data from sensors to control the position of the throttle valve, which in turn manages the amount of air entering the engine.
What is "Limp Home" Mode? ∞
"Limp Home" happens where there's a problem in the logic of a car's computer, such as the ETB.
If the ETB can't figure out what's going on, you can go from cruising down the highway to desperately trying to use what momentum you have left to find a safe place to pull off.
"My 2010 Ford Escape while driving at 70 MPH on the freeway in traffic the engine stalls leaving me with no power to control my speed. As my car quickly reduces speed on a major freeway I attempt to get over to the shoulder out of harms way. Ford calls this non life threatening because the car is still controllable to get out of harms way. Really??"
Sherri M, 2010 Ford Escape Owner from Hurst, TX
"Limp home" is self-preservation. The vehicle will no longer accelerate above a pre-defined value set by the automaker. The goal is simply to give you the minimal amount you need to find a mechanic.
"I had just started up a long bridge in heavy traffic when the Explorer suddenly lost power, the check engine light and wrench light came on. I was able to drive at very low speed into a lane under construction. I eventually had to be escorted off the bridge at the same low speed by a Port Authority police car."
Ford owners have reported that throttle body related issues come back with trouble codes P2111 and P2112.
A Parts Delay ∞
ETB problems are very common with Ford vehicles and, because of that, the parts are often back-ordered and the average wait time is three weeks.
Because the cars can sometimes come back to life after stopping and starting the engine a few times, mechanics will often send you home and tell you to wait for the replacement ETB to come in. Of course, that means you're at risk of this happening again. In that case, it's worth asking about a rental car.
The Recall That Wasn't ∞
In October 2012, the North Carolina Consumers Council (NCCC) petitioned the government to look into throttle body failures in the 2005-2012 Ford Escape. It was one of the first instances where ETB "limp home" problems were reported.
The petition referenced TSBs Ford had previously released (TSB 08-18-2 and TSB 09-23-5) that discussed "drive-away hesitation and loss of RPM on deceleration." The TSBs pointed to possible problems in the Powertrain Control Module (PCM) and electronic throttle body (ETB).
The National Highway Traffic Safety Administration (NHTSA) agreed to open an investigation in February 2013. The investigation focused on engines stalling or surging, followed by a sudden loss of power.
The investigation covered the 2009-2010 Ford Escape/Escape Hybrid, 2010-2011 Ford Fusion, 2009-2010 Mercury Mariner/Mariner Hybrid, and the 2010-2011 Mercury Milan.
Ford's "Customer Satisfaction" Campaign ∞
During the investigation, Ford found nearly 60,000 warranty claims related to throttle body problems and determined there was an electrical connectivity problem in the ETB.
Ford opened up "customer satisfaction program (13N03)" instead of issuing a recall for those ETB problems. The program extended the ETB warranty up to 10 years / 150,000 miles from the warranty start date of certain vehicles with 2.5L and 3.0L engines.
It was enough to satisfy NHTSA, who closed their investigation. But it did little to satisfy most customers.
Why Didn't NHTSA Recall Ford's ETB? ∞
An extended warranty is nice and all, but it means consumers have to wait for their ETBs to break before they can get them replaced. That leaves drivers at risk of sudden acceleration or deceleration in dangerous driving scenarios.
NHTSA's role is to "set and enforce safety performance standards for motor vehicles", but in this case they've dropped the ball. Preventive means could have been taken to prevent future incidents with Ford's defective ETB, but instead we're left with Ford's reactionary program.
If the agency is looking for evidence of a safety defect, they don't need to go far. For the 2010 Ford Fusion alone, there over 1,500 reports of problems with the vehicle speed control, engine and fuel system on NHTSA's website.
The Lawsuits Come Limping In ∞
By October 2016 Ford was hit with their first throttle body lawsuit by owners of 3.7-liter Ti-VCT engines.
"Plaintiffs Janis Benkle and John Kovak say the affected Ford and Lincoln vehicles are equipped with 3.7-liter Ti-VCT engines with Delphi Gen 6 electronic throttle bodies that experience electrical problems with the powertrain control modules."
The lawsuit named the 2011-2015 Ford F-150, Edge, Mustang, and the 2011-2015 Lincoln MKX.
The next month, a 2016 Explorer throttle body lawsuit investigation was opened. Among the complaints in the lawsuit, was how owners were told they needed new throttle bodies, but none were available and the back-ordered parts took weeks to arrive.
In February 2017, more owners with busted throttle bodies sued Ford because they were tired of their vehicles suddenly losing power without warning.
"The lawsuit was filed by Silvia Franco, who says she bought a 2012 Ford Explorer with a 3.5L Duratec V6 engine in 2014. The plaintiff says she was driving in June 2016 when the SUV suddenly and without warning experienced a "sudden unintended deceleration" (SUD) event. Since that first time, Franco has allegedly experienced two other SUD events while driving her Ford Explorer."
The lawsuit specifically blamed Ford's "customer satisfaction program" which, unlike a recall, waits until the part fails before doing anything.
Lawsuits Regarding This Problem
Lawsuits about this problem have already been filed in court. Many times these are class-action suits that look to cover a group of owners in a particular area. Click on the lawsuit for more information and to see if you're eligible to receive any potential settlements.
A Ford sudden deceleration lawsuit alleges a host of vehicles have defective electronic throttle body control systems that cause the vehicles to suddenly and dangerously lose power.

Plaintiffs Janis Benkle and John Kovak say the affected Ford and Lincoln vehicles are equipped with 3.7-liter Ti-VCT engines with Delphi Gen 6 electronic throttle bodies that experience electrical problems with the powertrain control modules.
Generations Where This Problem Has Been Reported
This problem has popped up in the following Ford generations.

Most years within a generation share the same parts and manufacturing process. You can also expect them to share the same problems. So while it may not be a problem in every year yet, it's worth looking out for.
1st Generation Escape

Years

2001–2007

Reliability

89th out of 94

PainRank™

47.99

Complaints

1586

Learn more about the 1st Generation Escape

2nd Generation Escape

Years

2008–2012

Reliability

92nd out of 94

PainRank™

58

Complaints

1648

Learn more about the 2nd Generation Escape
Further Reading
A timeline of stories related to this problem. We try to boil these stories down to the most important bits so you can quickly see where things stand. Interested in getting these stories in an email? Signup for free email alerts for your vehicle over at CarComplaints.com.
Defective electronic throttle bodies (ETB) are causing Ford vehicles to suddenly decelerate and enter "limp home" mode, which is like trying to drive a snail through a molasses puddle.

A lawsuit that is seeking class-action certification wants Ford to fix their ETBs.

"The plaintiff wants Ford to pay damages and equitable relief, fix all vehicles named in the lawsuit by replacing the electronic throttle bodies, inform consumers through advertising campaigns about the dangers of sudden unintended deceleration and educate consumers about their pre-purchase or pre-lease legal rights once all the facts are known."…

keep reading

article "Another Ford Throttle Body Lawsuit"

'Tis the season for holiday cookies, silent nights, a dashboard that stays lit like a Christmas tree, and frantically stepping on the gas pedal wondering why your SUV is no longer accelerating.

OK, those last two are special "treats" for 2016 Ford Explorer owners. Owners complain about vehicles that lose power while driving, leaving drivers urgently pressing the gas pedals to no avail. Symptoms typically include seeing a "wrench light" illuminated with the words, "See Manual," all while the SUV loses speed as it enters "limp home mode."

If this has happened to you than you'll be happy to hear an investigation has been opened to determine if a lawsuit is needed. It's not as helpful as a recall, but it's a step in the right direction. The investigation is focusing on the throttle body – a part, which many owners have told us, is not readily available.

keep reading

article "Possible Lawsuit for 2016 Explorer 'Limp Home' Mode"

The National Highway Traffic Safety Administration (NHTSA) has closed their investigation into electronic throttle body (ETB) problems in Ford vehicles after Ford agreed to fix 1.6 million of their cars and SUVs.

Just don't call it a recall. Oh no, Ford has spun this one into a "customer satisfaction program." The program extends the warranty on the ETB for up to 10 years or 150,000 miles from the warranty start date of the vehicle and encourages owners to visit a Ford dealer to have their vehicle's software updated.…

keep reading

article "Ford Agrees to Fix 1.6 Million Vehicles That 'Limp Home'"
OK, Now What?
Maybe you've experienced this problem. Maybe you're concerned you will soon. Whatever the reason, here's a handful of things you can do to make sure it gets the attention it deserves.
File Your Complaint

CarComplaints.com is a free site dedicated to uncovering problem trends and informing owners about potential issues with their cars. Major class action law firms use this data when researching cases.

Add a Complaint

Notify CAS

The Center for Auto Safety (CAS) is a pro-consumer organization that researches auto safety issues & often compels the US government to do the right thing through lobbying & lawsuits.

Notify The CAS

Report a Safety Concern

The National Highway Traffic Safety Administration (NHTSA) is the US agency with the authority to conduct vehicle defect investigations & force recalls. Their focus is on safety-related issues.

Report to NHTSA