2018-2020 F-150 Owners Sue Ford Over Excessive Oil Consumption Concerns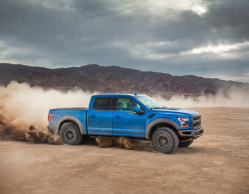 One of Ford's "solutions" to excessive oil concerns in the F-150 was to install new dipsticks with lowered minimum fill level markings. No wonder they're getting sued. A proposed class-action lawsuit says Ford needs to properly address oil consumption issues in the 5.0-liter Coyote engine.
A couple major flaws inside the engine draw excess oil into the combustion chamber where it is burned off. Not only does this mean the engine uses much more oil than advertised, but all that additional carbon buildup causes wear on ignition and emissions equipment.
The plaintiffs say the defects can cause the engine to suddenly stall or seize while driving and drastically reduces the trucks' resale value.
About the Lawsuit ∞
The lawsuit covers the F-150's 2018-2020 model years.
It'd be difficult for Ford to deny knowing about these problems given a series of technical service bulletins (TSBs) about oil issues released between March and December of 2019.
The latest TSB, #19-2365 recommends technicians reprogram the powertrain control module (PCM), change the engine oil plus the filter, and "install a new engine oil level indicator" which is basically a dipstick with a wider operating range.