Safety Advocates Are Calling For a Ford Explorer Carbon Monoxide Recall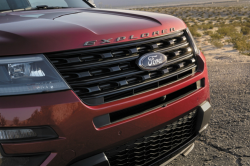 The Center for Auto Safety (CAS) says enough with the "special programs" and "complimentary service" campaigns, it's time for an extensive recall program for 1.3 million Explorers with carbon monoixide problems. The CAS says the SUVs have cracked exhaust manifolds that allow carbon monoxide to enter the cabins and that claims about CO exposure have increased 900% since the National Highway Traffic Safety Administration (NHTSA) opened an investigation a year and a half ago. That's not even counting the thousands of complaints sent by owners to Ford and sites like CarComplaints.com.
The "complimentary service" program only lasts until December 31st of this year. The CAS is looking for something more permanent, saying it is possible that Ford and Ford's customers have just been lucky up until this point, but the time for Ford to take more serious action is now, before that luck runs out.