F-150's Single Cup Seal Master Cylinder is Leaking
Posted on

Tagged
Key Points
The single-seal-cup master cylinder design in the 2013-2014 F-150 is leaky, resulting in spongy brakes.
During an open investigation Ford decided to recall the "compromised" primary cup seals.
Lawsuits say the recall didn't cover enough trucks or offer compensation to all owners that previously paid for repairs.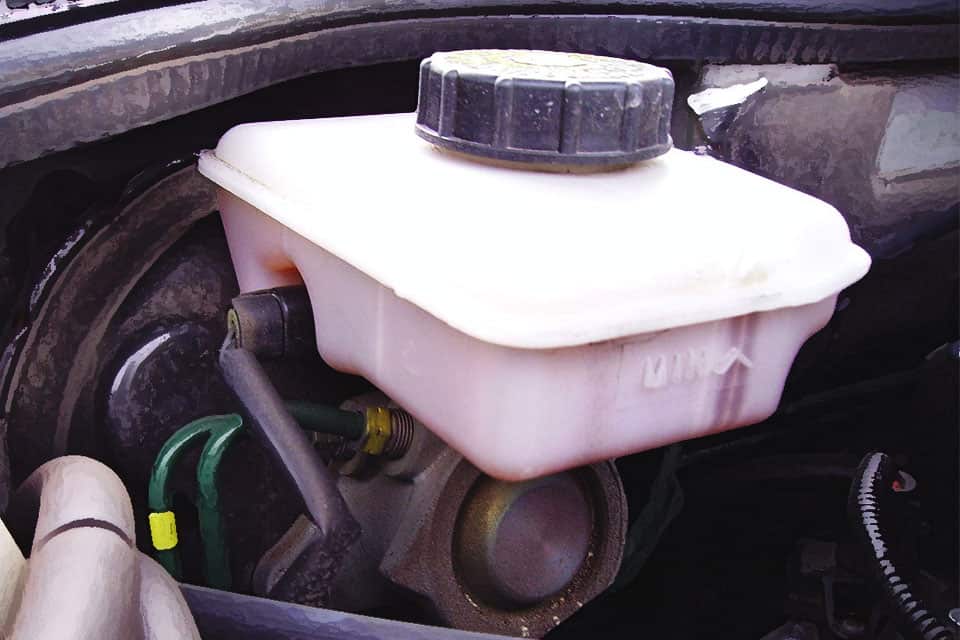 The new master cylinders are known for allowing brake fluid to leak back into the booster, limiting braking performance. Despite a bump in complaints, a federal investigation, multiple lawsuits, and even a recall for the 2013 and 2014 model years, Ford has continued to use the same defective master cylinder through the 2018 model year.
The Master Cylinder's Role ∞
So you want to stop your truck, great! When you apply force to the brake pedal it is amplified by a power brake booster (because you're strong, but not that strong). The resulting force is used to move a pushrod into the master cylinder.
When the pushrod enters the master cylinder the wonders of engineering and science take over. Springs, pistons, and fluid dynamics all work together to generate hydraulic pressure that can be distributed to the brakes.
Maintaining pressure inside the master cylinder is essential to brake performance. For that, rubber seals are used to keep pressurized brake fluid from leaking out.
If the pressure is broken or leaks develop, the brake pedal will feel spongy and sometimes even continue to the floor after you're done stepping on it.
Hitachi's master cylinder design just isn't working ∞
Ford started using a master cylinder provided by Hitachi[1] for the 2013 F-150. Previously the part had been supplied by Bosch.
Hitachi's design uses a single cup seal to keep pressurized brake fluid in place, compared to a more conventional design using two cup seals.
With double the load on the rubberized seal, it is essential that is seated properly. Hitachi's design seats the seal in a machined groove, and it didn't take long for Ford and Hitachi to realize that the seal is "rolling" in place and allowing brake fluid to escape.
In September 2015, Alejandro Rojas at Hitachi allegedly sent an email to colleagues saying:
"[We] have a big brake issue at Ford's Dearborn Truck Plant. The issue is a leak in the master cylinder. There are between 20-25 vehicles that have failed."_
A year later, an engineer at Ford's Kansas City Assembly plant sent an email titled Master Cylinder reservoir seal partially not seated.
"Are you already aware of what looks like rolled seals on master cylinder assemblies that Dearborn Truck Plant found? If that is indeed the defect, this is something we have seen in the past."
There certainly has been a spike in brake-related complaints. While most of the 2011 and 2012 complaints sent to CarComplaints.com are about a noisy and sometimes faulty vacuum pump, the number of overall complaints jumped for the 2013 model year, with at least 20 reports of brake failure.
The Master Cylinder Recalls ∞
Following a preliminary investigation by the National Highway Traffic Safety Administration (NHTSA), Ford issued a recall for loss of the front brakes for the 2013-2014 F-150 with 3.5-liter engines.
Ford cited risks of compromised primary cup seals and loss of brake fluid back into the brake booster.
Lawsuits say the recall didn't go far enough Master cylinder lawsuit points out internal communications ∞
In September 2018, Ford was sued for concealing master cylinder defects and not recalling enough trucks.
A second lawsuit was filed in October 2018 seeking financial compensation for any California based F-150 owner who paid for out-of-pocket-repairs. The lawsuit also called for a recall expansion.
---
---
---
Master cylinder image adapted from
WikiCommons
Generations Where This Problem Has Been Reported
This problem has popped up in the following Ford generations.

Most years within a generation share the same parts and manufacturing process. You can also expect them to share the same problems. So while it may not be a problem in every year yet, it's worth looking out for.
12th Generation F-150

Years

2009–2014

Reliability

93rd out of 94

PainRank™

66.09

Complaints

1456

Learn more about the 12th Generation F-150

13th Generation F-150

Years

2015–2020

Reliability

79th out of 94

PainRank™

32.39

Complaints

715

Learn more about the 13th Generation F-150
Further Reading
A timeline of stories related to this problem. We try to boil these stories down to the most important bits so you can quickly see where things stand. Interested in getting these stories in an email? Signup for free email alerts for your vehicle over at CarComplaints.com.
Anyone out there having trouble slowing their truck down?

There's a lawsuit that says a change to the F-150's master cylinder design is creating a dangerous braking situation.

All 2013-2018 Ford F-150s use master cylinders supplied by Hitachi, with the pistons fitted with just a single cup seal responsible for containing pressurized brake fluid. The lawsuit alleges this is unusual because pistons within master cylinders are usually fitted with two cup seals to ensure that fluid does not leak out of the master cylinders.

These single-seal master cylinders have already been recalled for the 2013 and 2014 model years. But instead of changing the design, Ford replaced the defective part with – I bet you can see where this is going – new defective parts.

keep reading

article "The F-150's Single-Seal Master Cylinder Design is Doomed to Fail"

Ford owners sure do love their trucks and they just can't seem to stop talking about them.

It also turns out some of them just can't stop thanks to widespread brake issues. Federal safety regulators are investigating 2015-2016 Ford F-150 trucks after reports of brake pedals going to the floorboards, a complete loss of brakes and dealerships diagnosing the problems as caused by faulty master cylinders.

We've all heard about putting the pedal to metal, you just never want that to happen with the pedal on the left.

If all this master cylinder / brake talk sounds familiar, it's because the 2013 and 2014 model years were recalled for the same issue earlier this year. I guess that's one box still unchecked on the Ford engineer's to-do list.

keep reading

article "2015-2016 F-150 Brakes Under Investigation"

F-150 owners can't stop their brake pedals from suddenly falling to the floor. That means they also can't stop their trucks.

The problem is an empty master cylinder resevoir that's hard to detect because there's never any corresponding brake fluid leaks. It's like a magic trick that no-one finds amusing.

A new investigation hopes to pull back the curtain:

"The no-leak symptom is what makes NHTSA believe the fluid is moving from the master cylinder to the brake booster. In addition to that, some owners told NHTSA that Ford dealers have said the same thing."

The investigation covers 2013-2014 F-150 trucks equipped with 3.5-liter engines. If the problem is confirmed, it should prompt a recall.

keep reading

article "Master Cylinder in F-150 Brakes Under Investigation"
OK, Now What?
Maybe you've experienced this problem. Maybe you're concerned you will soon. Whatever the reason, here's a handful of things you can do to make sure it gets the attention it deserves.
File Your Complaint

CarComplaints.com is a free site dedicated to uncovering problem trends and informing owners about potential issues with their cars. Major class action law firms use this data when researching cases.

Add a Complaint

Notify CAS

The Center for Auto Safety (CAS) is a pro-consumer organization that researches auto safety issues & often compels the US government to do the right thing through lobbying & lawsuits.

Notify The CAS

Report a Safety Concern

The National Highway Traffic Safety Administration (NHTSA) is the US agency with the authority to conduct vehicle defect investigations & force recalls. Their focus is on safety-related issues.

Report to NHTSA